Advancing Sewing as an Art and Life Skill
COME JOIN US!!
We meet at different libraries of the EBR parish library system. Check the calendar page for meeting dates, places and times. Every meeting features a Program and Show and Tell. We love doing charity sewing for our community. We have exciting things planned for 2019, so join us for sewing camaraderie!
​Questions? email Cindy Landry at batonrougeasg@yahoo.com or fill out our contact form on this website.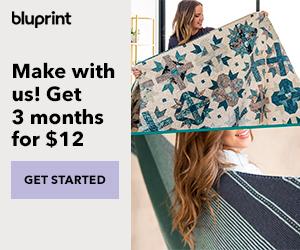 Please help our organization by enrolling in any Craftsy class, or creating your Craftsy account by clicking one of the banners above. Craftsy has sewing, quilting, knitting, crochet, photography, cake decorating and cooking classes, among others. New classes are always being offered by the best teachers in the industries. Craftsy Unlimited is now Blueprint, and there is a separate link for that. There are occasionally special savings to be had through our link! Craftsy's own original website is still up, and they also have great sales on fabrics, and kits for both garment sewing and quilting!
Chapter Leadership




2019 BOARD MEMBERS: L TO R:
Karen Durst, Secretary and Program Chair, Mary Ehrhardt, Vice President, Carol Mendoza, Treasurer, and Cindy Landry, President



---
DECEMBER, 2018
​Our annual meeting and party was a great success. Held at the home of Karen Durst, we had a fabulous meal, exchanged gifts, and elected our board members. Board members remain the same this year - Cindy Landry President, Mary Ehrhardt Vice President, Carol Mendoza Treasurer and Karen Durst Secretary. Here are some photos of our celebration.
​
NOVEMBER, 2018
​Busy meeting in November! Member Carolyn Bell shared a really cool way to sew a dog bed! Jill McDaniel won the door prize, and we also had our Tea Towel contest. The winners were Sue and Dette!
​
OCTOBER, 2018
​We all showed off our favorite sewing notion at this meeting. We also had a visit by the director of Braveheart, Marcy Sparrow. Marcy's talk about the children they serve brought many of us to tears. Member Rose Childress began making more of the zipper pouches and bags for Braveheart at home, and encouraged others in her Facebook group, Sew Baton Rouge, to do the same.


SEPTEMBER, 2018

Charity Sewing Event! 12 members sewed 50 drawstring bags, 72 Christmas stockings, and 55 zipper bags in September. The drawstring bags and zipper bags will go to an organization that helps children who must be removed from their homes. The stockings are sent to an organization that will fill them, and send on to our service men and women overseas. Thanks to all who donated fabric, and participated in the sewing!
​Our October meeting is on October 5th. Please bring your favorite notion, or sewing tip to share with members. This is going to be a heavy show and tell day, so we will keep it short. Don't forget to work on your tea towels for the November tea towel contest!

July, 2018
​A unique bag that was originally introduced to us by our founder, Pie Michelli, was presented by Monique this month. She showed us this free pattern and how to put it together. We always saw Pie with this little bag at every meeting, and so this presentation was to honor our chapter founder. We wouldn't be the group we are today without Pie! Please keep Pie in your prayers.

June, 2018

Mary Ehrhardt had a program on a really cool way to install invisible zippers, using hemostats. You can watch this technique from Kenneth King on the YouTube Threads Magazine channel. Martha was this month's door prize winner, and there was lots of great show and tell. We sure do have fun! Our charity sewing event will take place at the Goodwood Library downstairs in September. We will be sewing 3 different things: Christmas stockings for Veterans, and also drawstring bags and zip pouches for boys and girls who have been displaced from their homes. We look forward to helping our community. The CAB is also looking into a special event program for next year.
May, 2018

In May, Carol Mendoza showed us how she quilts with rulers. See the photo below next to Carol at the machine. It really is precise. It was fascinating to see it in action. She also won the door prize. Here are some photos of our meeting. There were wallets, garments, pillows, crazy quilting, and all sorts of inspiration!
April, 2018

Martha Spruell presented our program in April, on a Disappearing 4 patch quilt block. Thank you Martha! Here are some photos of show and tell, and our monthly door prize recipient.
March, 2018


Sue Froeba presented our March meeting - all about Feng Shui - for sewing! Feng Shui is basically the use of energy forces to harmonize individuals with their surrounding environment. She advised us on the best books on the topic, and gave us folders packed with information about décor, our homes, our sewing spaces, fabrics and more. Sue really put a lot of work into this presentation, and it was unique and entertaining.
Mary Ehrhardt won the monthly door prize.
​
FEBRUARY, 2018

February's meeting included plenty of guests! A local hand embroidery guild that was having a meeting next door to us joined us for show and tell! We also welcomed new members and 3 more local visitors! We are very excited about the interest in our small chapter, and hope to see them all again!
​The program was by Karen Durst, who always comes up with great topics. This month, she demonstrated how to make grocery bag hangers and a kitchen scarf. Tammy won the door prize. Remember, the more meetings you attend, the bigger chance you have of winning our monthly door prize. Members only, and you can win once a year.


​
January 2018
The first meeting of the year! Debbie Quinn showed us how to make a wall hanging stabilizer roll holder. There are many other uses for something like this as well. Karen Durst won our first door prize of the year, and there was lots of show and tell. Most of our Christmas sewing we never see, as they are given as gifts. But, we tell about them, or show pictures!



​
2017 Christmas party and Annual Meeting

ASG Baton Rouge held it's annual meeting and Christmas party at the home of Karen Durst in early December. Elections were held for the 2018 CAB, and there were many prizes given away, gifts were exchanged, and 4 members made gifts for all attendees. The food was fantastic as always!

​